Bacteriophage Quiz
Instructions
Complete the Quiz by Dragging the
KeyWords
to their Correct Location in the Text.
When Completed clicking the links will open Wikipedia pages
Created by Mike Capstick - cybertrain.info from Wikipedia articles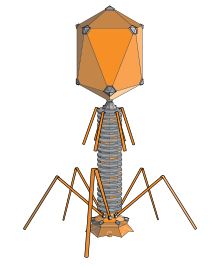 A bacteriophage is a virus that infects and replicates within a bacterium. The term is derived from "bacteria" and the Greek: fa?e?? , "to devour". Bacteriophages are composed of proteins that encapsulate a DNA or RNA genome, and may have relatively simple or elaborate structures.

Their genomes may encode as few as four genes, and as many as hundreds of genes. Phages replicate within the bacterium following the injection of their genome into its cytoplasm. Bacteriophages are among the most common and diverse entities in the biosphere.