The UBook Project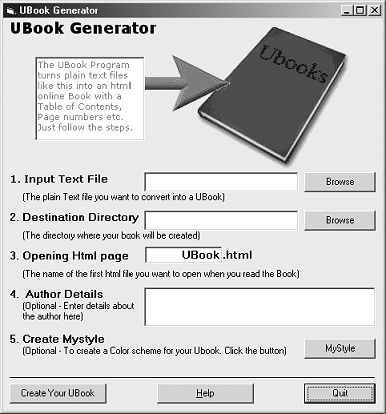 What is a UBook ?
UBooks is a Windows program that makes it easy to convert plain text files into an online book.
Simply
Create your plain text file
Add the Chapter details
Run the Ubook program to create your UBook complete with a clickable Table of Contents and your own color scheme.
UBooks brings the look (if not the feel) of a book to a set of web pages.
If required UBooks can be easily turned into ebooks.(See Joel Heffner's UBook about Ebooks)
UBooks uses html, css and javascript only so they work on all modern browsers.
The UBooks interface is graphics free but it is possible to add graphics using html tags.
Pricing
$20 single user licence
$110 site licence
Email me for more details