Julian Assange Quiz
Instructions
Complete the Quiz by Dragging the
KeyWords
to their Correct Location in the Text.
When Completed clicking the links will open Wikipedia pages
Created by Mike Capstick - cybertrain.info from Wikipedia articles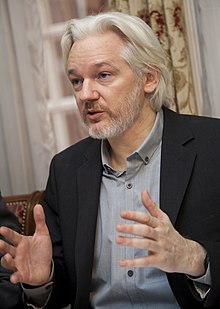 Julian Paul Assange is an Australian journalist, computer programmer and the founder and director of WikiLeaks, who is currently serving a prison sentence in the United Kingdom.

Assange describes himself as an advocate of information transparency and market libertarianism. In 2006, he founded WikiLeaks, an international publishing organisation known for revealing war crimes, human rights abuses, and corruption. WikiLeaks came to international attention in 2010 when it published a series of leaks provided by Chelsea Manning. These leaks included the Collateral Murder video , the Afghanistan war logs , the Iraq war logs , and CableGate . After the 2010 leaks, the United States government launched a criminal investigation into WikiLeaks and asked allied nations for assistance.