Dog Quiz
Instructions
Complete the Quiz by Dragging the
KeyWords
to their Correct Location in the Text.
When Completed clicking the links will open Wikipedia pages
Created by Mike Capstick - cybertrain.info from Wikipedia articles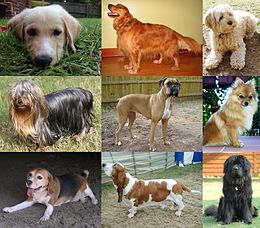 The domestic dog is a member of the genus Canis , which forms part of the wolf-like canids, and is the most widely abundant terrestrial carnivore. The dog and the extant gray wolf are sister taxa as modern wolves are not closely related to the wolves that were first domesticated, which implies that the direct ancestor of the dog is extinct. The dog was the first species to be domesticated and has been selectively bred over millennia for various behaviors, sensory capabilities, and physical attributes.